NADS 2013 Meeting: August 13-17
Welcome to the NADS website!

Photo by Jeffery Stone

The North American Diatom Symposium (NADS) is a biennial meeting normally held at field stations throughout the United States and Canada.

The meeting was first held in 1970 at Cedar Creek in Minnesota. Since that date, the gathering has been hosted at field stations in Florida, Colorado, Manitoba, Kentucky, Alabama, Ohio, Minnesota, Iowa, Wisconsin, and Michigan. NADS usually attracts about 100-120 diatomists from North America and around the world. The meeting provides a student friendly atmosphere, ample opportunities to network and socialize, the ever-popular scum run, local field collecting trips, and lively auction of diatom related valuables. NADS is an informal society, that is, there are no formal officers or structure.
This meeting provides the opportunity to catch up with colleagues and talk to some of the foremost diatom researchers in an informal atmosphere, often a beautiful field station in North America.
The 22nd NADS was held from 13-17 August 2013 at the College of the Atlantic in scenic Bar Harbor, Maine. The campus is located on the ocean, adjacent to Acadia National Park. International participants presented work on all aspects of diatom investigations including biodiversity, evolution, ecology, systematics, biological assessment, paleolimnology, and nanotechnology. Plenary speakers included: Dr. Don Charles discussing, "The PIRLA project and its 30-year legacy: Diatoms, paleoecology, and lake acidification," and Dr. Zoe Finkel discussing, "Diatoms in a changing world." In addition to the scientific program, the meeting included traditional NADS activities (the Scum Run and auction), as well as some traditional Maine activities: a lobster bake and an evening sail on beautiful Frenchman's Bay. Thanks to all of the participants for making this such an exciting meeting!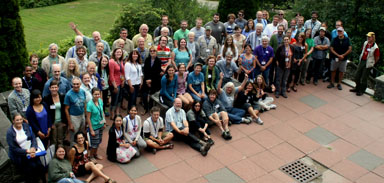 Click photo to open/download hi-res group photo.
2013 Organizing Committee
Please contact the co-organizers, Jasmine Saros and Courtney Wigdahl, if you are interested in helping with NADS 2013! Are you interested in participating in an education session during the NADS meeting? If so, please contact Virginia Card for more information!